Mucosal Immunology Journal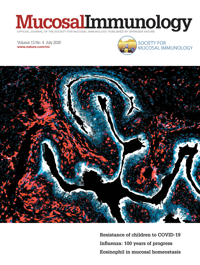 Mucosal Immunology is the official publication of the Society for Mucosal Immunology and is published by Nature Publishing Group. It aims to provide a forum for both basic and clinical scientists to discuss all aspects of immunity and inflammation involving mucosal tissues.
Its 2016 Impact Factor was 7.478. The Mucosal Immunology journal reflects the interests of scientists studying gastrointestinal, pulmonary, nasopharyngeal, oral, ocular and genitourinary immunology through the publication of original research articles, scholarly reviews and timely commentaries, editorials and letters. The content features basic, translational and clinical studies. Mucosal Immunology also aims to provide a primary method of communication for the SMI governing board and its members through the publication of society news and meeting and conference announcements.
---
Mucosal Immunology Journal Staff
Editor-in-Chief


Ben Marsland
Melbourne, Australia
Deputy Editors



Nadine Cerf-Bensussan
Paris, France


Gérard Eberl
Paris, France


Clare Lloyd
London, United Kingdom



Kathy McCoy
Alberta, Canada


Gregory F. Sonnenberg
New York, New York


 
Social Media Editor


Kathryn Knoop
Rochester, MN
Associate Editors

William Agace
Ken Beagley
Jason Brenchley
Alison Carey
Rachel R. Caspi
Andrea Cerutti
Andrea Cooper
James Di Santo
Daniel Douek
Donna Farber
Ivan Fuss
Richard Grencis
Dirk Haller
Philip Hansbro
Nicola Harris
Kenya Honda
Mathias Hornef
Iliyan Iliev
Bana Jabri
Cecilia Johansson
Hiroshi Kiyono
Nicholas Lukacs
Jennifer Lund
Nils Lycke
Andrew MacDonald
Kevin Maloy
Peter Mannon
Mike McGuckin
Henry McSorley
Guangxun Meng
Niki Moutsopoulos
Allan Mowat
Gabriel Nuñez
Hiroshi Ohno
Peter Openshaw
Oliver Pabst
Charles Parkos
Anuradha Ray, PhD
Barbara Shacklett
Britta Siegmund
Ludvig Sollid
Malcolm Starkey
Warren Strober
Kiyoshi Takeda
Mark Travis
Holms Uhlig
Dale Umetsu
Eduardo Villablanca
Jo Viney
Colby Zaph