Local Chapter Junior Investigator Meetings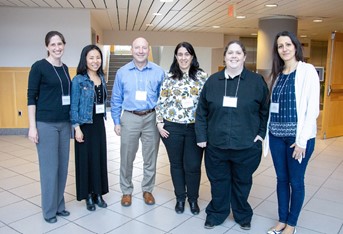 The Society for Mucosal Immunology has recently launched the Local Chapter Junior Investigator Grants Program to provide funding for junior SMI members who wish to host a small "local Chapter" Meeting relevant to the Mucosal Immunology field.
The purpose of the Local Chapter Junior Investigator Meetings is to provide support to junior investigators (undergraduate and graduate students, medical students and clinical fellows, postdoctoral fellows and junior research faculty) who are SMI members, to host and organize a meeting with a focus on Mucosal Immunology and to provide an opportunity for interactions with colleagues, research presentations, networking opportunities and career advice.
SMI wants to bring together local Mucosal Immunology communities to provide the following opportunities:
To share science, research concepts and findings


To familiarize researchers with local methodological expertise and build upon and advance Mucosal Immunology research through development of new research agendas in local research communities


To connect and advance shared scholarly interests in Mucosal Immunology
SMI will provide financial support (Up to $5000 USD) to defray associated costs (venue rental, audio visual, food and beverage), and provide assistance with Meeting advertisement and materials that will help organizers to highlight SMI membership activities and junior scientist-related inter-connections. Organizers are encouraged to seek additional support from local sponsors.  
To apply for the "Local Chapter" Junior Investigator Grants Program, please complete Application form and submit to:
Attention: Jennifer Stalsberg, Meetings & Marketing Manager, Society for Mucosal Immunology;
Email: jstalsberg@socmucimm.org
---
Assessment Criteria
The extent to which the meeting will meet the outlined purpose.
Benefits for Early Career Researchers; Inclusion of junior researchers across all levels of Training.
Budget and Budget Justification.
Level of planning (Organizing committee established, program, proposed advertisement and social media communications and indication of speakers etc).
Inclusion of multi-Institutions and Universities.
SMI- Expectations
The meeting meets the mission and vision of SMI Local Chapter Meeting concept (without the format being too prescriptive) and include junior Mucosal Immunology researchers across all levels of training.
The meeting will include at least one session focused on mentoring/panel discussion/networking.
The organizers will establish a live Twitter feed of the Meeting (Attendees can post using the Tag e.g. #SMI_LC_NewYork)
The Organizers are encouraged to have a teleconference (phone / Skype) meeting with the SMI Education Committee representatives for planning advise and to discuss the mission and vision of SMI Local Chapter Meetings.   
The organizers will utilize a SMI-approved and provided slide deck and branding to advertise SMI upcoming meeting and member benefits during the Local Chapter Meeting.
At the conclusion of the meeting the Organizers will provide a brief report and social media material to SMI that will used on SMI website to promote the Local Chapter Meetings.
Local Chapter Sub-Committee of SMI Education and Career Committee:
Dr Simon P. Hogan PhD, Dr Iliyan D. Iliev PhD, and Dr Alexandra J. Corbett PhD
Past Events
March 6, 2020 - SMI Local Chapter Meeting – Michigan

The SMI Local Chapter Junior Investigator Meeting – Michigan was organized on March 6th in Ann Arbor, home of University of Michigan, and which is close to other excellent academic institutions including Michigan State University (Lansing and Grand Rapids), Wayne State University (Detroit) and University of Toledo (Toledo, OH) with a rich mucosal immunology community. The event was inspired by the previous SMI chapter meeting organized in New York in 2019, and organized and hosted by the Pathology Department of the University of Michigan, and sponsored by the Society for Mucosal Immunology.
May 6, 2019 - SMI Local Chapter Meeting – NYC

The SMI Local Chapter Meeting – NYC was organized on May 6th in New York, at the Weill Cornell Medicine Belfer Research Building.

Notable speakers include Dan Littman, MD, PhD and Miriam Merad, MD, PhD. 10 additional junior scientists were on hand to present their research.